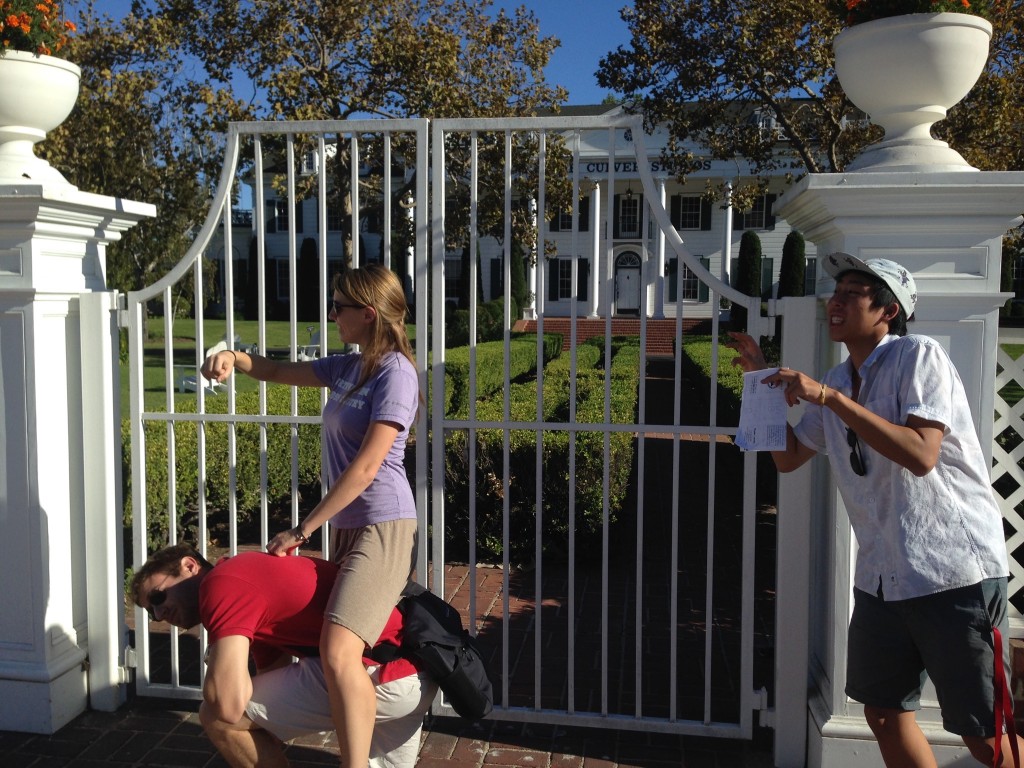 Culver Studios was established in 1918 by Thomas Ince, after he built his Triangle Studio further west (which is now the site of Sony Pictures). One day while driving around town, Harry Culver (the City founder and developer) saw Thomas Ince shooting a Western film on Ballona Creek. Culver immediately realized the possibilities and approached Ince, convincing him to move his studio from the beach to Culver City.
After Thomas Ince mysteriously died following a trip on the yacht of William Randolph Hearst's (the inspiration for Citizen Kane), the Culver Studios were bought out by Cecile B. DeMille studios in 1924. RKO Studios then bought out the space after its foundation on October 30, 1928. RKO Studios was established after the Radio Corporation of America (RCA) bought out the KAO theater chain and Joseph B Kennedy's Film Bookings Office of America (FBO).
RKO would go to produce two of the biggest films of that time: King Kong (1933) and Citizen Kane (1940). It also was known for it's popular musical films of the 1930s, successfully launching the careers of actors like Fred Astaire and Ginger Roberts. In 1950, the local Aerospace tycoon and film producer Howard Hughes bought out RKO. The Hughes Aircraft Company, which developed the "Spruce Goose", was already operating out of Culver City, thus solidifying Hughes as a major local player.
In 1956, Lucille Ball and Desi Arnaz purchased the studios for their Desilu Productions, after the incredible success of their show I Love Lucy (1951-1957). Their acquisition saw the studio space transform away from film production towards television production. In 1958, Lucille and Desi were named "Honorary Mayors" of Culver City as a sign of appreciation for their role as cultural and economic figures in the city. The studio became the site of a number of famous TV shows such as The Untouchables (1959), The Andy Griffith Show (1960), Hogan's Hero (1965), Batman (1966), and Star Trek (1967).
After Lucille Ball (by then the primary owner) sold the company in 1967 and then the space in 1969, the Culver Studios has been the site for a number of famous TV shows and films. These range from a wide mix including scenes from Raging Bull (1980), E.T. (1981), The Matrix (1999), Arrested Development (2004), and America's Next Top Model (2009).
For more information on the history of Culver Studios: http://theculverstudios.com/history/
For more information on the history of Culver City:  http://www.kcet.org/updaily/socal_focus/history/la-as-subject/culver-city-from-barley-fields-to-the-heart-of-screenland.html
For more information on the founder Harry Culver: https://www.culvercity.org/Visitors/CulverCityHistory/HarryCulver.aspx
Sample rally pics: